The Case of the Vanishing Tree
Removal hearing for the tree at 1360 Fulton St, January 20, 2021
Sounds innocuous enough, eh?  But wait till you see the BUFFU artist of the month, SF Urban Forster Chris Buck (aka C$) at the hearing.
Click here for hearing video  (about 4 mins)
At the end of the C$ presentation it seems like the tree is still in place, waiting for the tree cutters to arrive, right?
Wrong.   The photo below, showing the empty planting basin at 1360 Fulton St, was posted to the DPW website on January 15, 2021 — just 5 days before the removal hearing.  Oops, seems the tree was removed back in March 2020 and C$ didn't know about it — or did he know about it and just cover up?  (Who took the below photo?)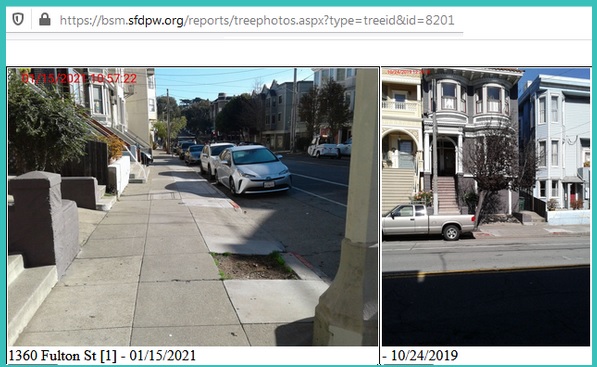 The Case of the Wandering Trees
by Sherlock Tree & friends
Removal hearing for the 3 trees at 80 Junipero Serra Blvd, January 20, 2021
In March 2020 BUF Princess MoriarTree and her henchman C-Buck (aka C$) posted three trees for removal.  Glancing at the notice I wondered where the trees actually were, and pulled their GPS coordinates from the BUF database and had Google draw a map. The trees were about two miles south of  where the removal listing indicated.
(The red point is the BUF removal notice location, green points are DPW Tree database GPS locations*.]
I wrote the BUF office asking where the trees were actually located and included the map, but did not receive a reply re the location.
A few weeks ago in my digs above a taqueria on 24th St, I was reading the BUF removal notices for the upcoming Jan 20, 2021 tree removal hearing.  Just then my friend Dr Klomes dropped by. "Look at this Klomes.  I wondered about these trees last year and now they are up for a formal hearing to decide their fate."  I pulled out the map showing the disparity of the trees' locations.
I attended the removal hearing and pointed out the problem  with the trees' locations, and wondered further whether the tree cutting crew might use the BUF database GPS location and remove the wrong trees. That really struck a nerve with C$.  [See his reply here  (about 2 minutes)].
In the Dist 7 Various Trees Resulting Decision Order 204218 C$ wrote that photos of the trees would be provided to help the tree cutters find the trees.  But if the GPS points put the tree cutters two miles away, how will they find the trees by sight?
* Click here to see the full Google Map.  Click on any of the green points to see the DPW Tree database values, e.g. AddressNo = 80 and Street = Junipero Serra Blvd.